Click the event location to view the species recorded



26/03/11 - Pont Llogel - SJ032153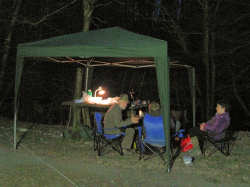 Moth HQ - the new gazebo gets first outing

The first event of 2011 was at Pont Llogel SSSI. This well protected site alongside the river was chosen for this early event as the tree cover would offer a degree of protection in case the weather turned cold. In the event, the temperature didn't fall below 7c., and the moths were coming readily to the traps.


We set up our HQ in the car park and the new pop-up gazebo was used for the first time, this proved to be a great bit of kit as it gave us a large dry working area where we could id the moths and sit and chat in relative comfort. At this point we felt the erection of the gazebo had to be celebrated, so out came the tuck….some things never change!!

Semioscopis avellanella

When the lights went on it wasn't long before the first suspects were drawn to the light, we were hoping for a good rep
r
esentation of the early spring
species and we weren't let down. First up was the ubiquitous
Hebrew Character
followed closely by a
Chestnut
. During the course of the evening all the Quaker species were represented except for the Powdered Quaker which somehow eluded us? After about an hour our first micro and indeed best moth of the evening made an appearance, it was a

Semioscopis avellanella

which is a very local species and had only ever been recorded at one other site in the county before, an excellent record. Other micro species recorded were: -

Diurnea fagella

,

Ypsolopha ustella

,

Agonopterix arenella

,

A. ocellana

and a leaf mine that was found by Douglas was later confirmed as

Stigmella aurella

. Throughout the evening other macro species included the
Engrailed
,
Pale Brindled Beauty
,
Early Thorn
and
Shoulder Stripe
. The only migrant to make a show was the
Red Sword-grass
and the best macro was the
White-marked
.

By 11:30 we all decided to call it a night and as we were packing away the kit, Mike noticed a
Mottled Grey
on one of the bags which gave us a grand total of 22 species (16 macro and 6 micro). I think I can safely say that the first event of the year went off very well indeed.


23/04/11 - Llandinam Gravels - SO010865

With the weather set fair the second MMG event of the year at Llandinam Gravels had an air of anticipation about it.The general feeling being that it was going to be a good night's trapping. After we set up base camp we had a short while before the traps were fired up, so the tuck made its usual early appearance. Moth trapping can be very hungry work!

The first species of the evening was a
Twin-spotted Quaker
which is more or less at the end of its flight season. Conversely, this was followed by a
Brimstone Moth
which is just coming into season and a stunning
Water Carpet
. These were followed by an
Alder Moth
and
Streamer
, plus a beautiful
Clouded Silver
also turned up. Throughout the evening, four species of Pug were recorded:
Brindled, Oak-tree, Common
, and a lone first brood
Double-striped
. Not to be outdone, four species of Prominent also came to the traps:
Pale, Great, Pebble
and the
Lesser Swallow
.



Glaucous Shears
About half-way through the evening, Douglas brought a moth to the table that no-one could immediately identify. For a while we were all busily flicking through the pages of the reference books until finally we managed to track it down. It was a
Glaucous Shears
, a local species that none of us had seen before and a marvellous record for the evening.


In the meantime, more of the usual suspects were still coming to the table; these included
Oak Hook-tip
,
Red-green Carpet
,
Pale Tussock
,
Nut-tree Tussock
and
Purple Thorn
. As the evening drew on, we dismantled the trap which had been most affected by a slight chill in the breeze and then the white sheet. There was a flurry of activity at the final trap and we added several species to the evenings haul:
Scorched Wing
,
Square Spot
,
Scalloped Hazel
and the only migrant of the evening,
Dark Sword-grass
.

Micro species throughout the evening were low in number, but a twenty-plume moth

Alucita hexadactyla

arrived, as did

Acleris literana

,

Epinotia immundana

,

Eriocrania subpurpurella. Syndemis musculana

was present in small numbers. We also recorded a single

Adela reaumurella

, not an uncommon species, but we didn't have a photo of it on the web site so this moth was retained until I could photograph it later.

The eight people who attended all had an excellent evening and with 45 species being recorded (which is a good species count for an April event) there was plenty of interest throughout the evening. The pick of course being the first
Glaucous Shears
to be recorded in the county since 1977.

21/05/11 - Dolforwyn Woods Nature Reserve - SO155958

The weather forecast wasn't very good for Saturday evening so I'm pleased to say that until about the last hour, the forecasters were wrong. But, finally, the heavens did open up, the wind and rain reached a magnitude of biblical proportions as we all hung onto the gazebo. I had visions of it ending up in Newtown about five miles away, with us all hanging onto the legs, a very 'Wizard of Oz' moment.

Chris Williams turned up for this event so, with his four traps and my three, we were able to trap a large section of the woodland track. The conditions all pointed towards a good mothing evening and, from the moment the lights went on, the moths were coming to the table.

First up was a
Common Marbled Carpet
and, after this, in amongst all the usual suspects, was a smattering of cracking species. Firstly, a beautiful
Scorched Carpet
arrived but this was a species I did not recognise, so some frenzied fingering through the books took place until we had a positive id. This was followed by a
Beautiful Snout
, a stunningly marked moth. The first hawk moth of the evening was a
Lime Hawk
and the only other hawk moth was an
Elephant Hawk
late in the evening. The next uncommon species to turn up were
Blomer's Rivulet
and
Clay Triple-lines
. If anything, as the evening drew on, the moths came to the traps in even heavier numbers,
Sandy Carpet, Red-necked Footman
and
White-pinion Spotted
were mixed in with more of the common species. Then, at about midnight, we had the heavy rain and, even while we were packing the kit away, the species kept coming,
Lunar Thorn, Alder Moth, Pine Carpet
and finally Douglas found a very uncommon
Ochreous Pug
lurking on a trap.

Throughout the evening we also had a good selection of micro moths, the pick of the bunch was

Carpatolechia notatella

which was a new species for the county. Other notable species were

Udea olivalis, Ancylis geminana, Ancylis mitterbacheriana

, also, the second county record of an

Epinotia subocellana

, and the fourth county record of the stunning and unusual

Alabonia geoffrella

.

I think it can be safely said that the five of us who turned up all had an excellent evening, and had the event not been curtailed by the rain I feel we would have recorded many more species.
18/06/11 - Carreg-y-big farm - SH993033

Our hosts for this high altitude event, Alison and Gareth Davies, were sorry not to be able to attend, but left their son Evan, and daughter-in-law Bethan, in charge of the farm. We were very well looked after, with tea and biscuits flowing throughout the evening. A big thanks to both, especially as Evan was hobbling around on crutches after a recent accident.

Gareth had kindly allowed us to set up base camp in the tractor shed, which was dry and out of the breeze. As we all gathered there before the lights went on, Douglas was quickly pressed into action, netting

Endrosis sarcitrella
(White-shouldered House Moth)
. Micro moths were then hard to come by during the evening as the weather conditions put them off flying, but we did record

Scoparia ambigualis

and one of the grass moths,

Chrysoteuchia culmella

.

The first macro moth to come in was a
Large Yellow Underwing
and this was quickly followed by a fresh
Green Carpet
. The site was good for
Ghost Moth
as several males were brought to the table throughout the evening (although no females were seen). Green coloured species seemed to play a large part of this event as
Green Silver-lines
then, a beautiful
Light Emerald
were followed by a stunning
Green Arches
(this moth certainly had the biggest 'wow' factor amongst all the species). Other notable species to come in were
Beautiful Golden Y, Burnished Brass
and
Devon Carpet
. The only hawk moth of the night was a rather nice
Elephant Hawk
and the only prominent species was the 'wood chipping' look alike,
Pale Prominent
(which always amazes people, especially those new to mothing). As usual, as we were packing up a few late comers were found, these included,
Golden-rod Pug, Pale-shouldered Brocade
and
True Lover's Knot
- a moorland specialty.
Prior to the event, I had hoped that this isolated oak woodland would turn up an unusual species or two, but the rather chilly breeze which accompanied us throughout the evening kept moth numbers somewhat on the low side. I'm sure that this site has more secrets to yield – another day perhaps!
02/07/11 - Llanymynech Rocks -SJ265217

Llanymynech Rocks is an excellent limestone quarry, sitting on the border of Montgomeryshire and Shropshire. As such, this event was jointly organised by the MMG (Montgomeryshire Moth Group) and Rhona Goddard of Shropshire Wildlife Trust. The MMG had attempted events here before but the weather had always intervened. Fortunately, this time the weather 'played ball' with warm air and cloud cover. As it turned out, this much anticipated event surpassed all expectations, with five new county records, and both the target species being found - we had a wonderful evening!

Base camp was set on a flat area near the path, and in total, we had six Skinner traps as well as the white sheet. The traps were positioned over a distance of a few hundred yards, more or less in a linear fashion, along the path. Even before the lights went on, moths were being brought to the table, and in fact, one of our target species
Haworth's Pug
was found during this period.



Pretty Chalk Carpet
Once the trap lights were on, species quickly arrived in good numbers, including
Short-cloaked Moth
,
Small Blood-vein
and
Yellow Shell
. After about fifteen minutes, our second target species the
Pretty Chalk Carpet
(not seen since 1989) was found. What a lovely species! None of us had seen it before. Both target species
had already been
trapped. Great! But this was just the start, much more was to follow.

Things were hotting up and species were being brought to the table in great numbers, I was even having a job keeping up with identification. After about an hour we were treated to
Heart & Club
, a new species for the county. There had been much conjecture over the years as to whether this species was in fact found in the Montgomeryshire and now we have proof that it's here. Other notable species during this period were
Clouded Brindle, Beautiful Hook-tip
and a huge
Northern Eggar
(definitely a crowd pleaser). After a couple of hours or so Mike brought in a moth, stating right away that it was
Small Waved Umber
; it was the second new county record of the night and in fact we saw three individuals of this species during the evening. Still more good species were coming in,
Larch Pug, Green Pug, Tawny Barred-angle, Small Yellow Wave, Poplar Grey, Barred Red, Dot Moth
.
Light Arches
and
Marbled Beauty
were seen just as we were packing up.

Throughout the evening micro moths were also very numerous, and three new county records were recorded,

Epiblema foenella, Hellinsia osteodactylus

and

Cochylis hybridella

. Other excellent records were

Aethes smeathmanniana

(not recorded since 1975),

Trachycera marmorea

(not recorded since 1989),

Epiblema costipunctana, Tinea semifulvella, Lozotaenia forsterana, Euzophera pinguis

and

Coleophora mayrella

.

In all, 81 species of macro, and 47 species of micro moth were recorded, giving a grand total of 128 species. Of these 5 were new county records and others hadn't been recorded for many years, making this event one of the most successful events we've ever had. A truly exciting evening.


16/07/11 - Cors Dyfi -SN704984

The weather forecast for this event was really rather poor with heavy rain and strong winds predicted. However, when Saturday arrived, apart from showers, it was nowhere near as bad as we were led to believe, in fact, conditions were really rather good for mothing. So this event, jointly organised by the MMG (Montgomeryshire Moth Group) and Emyr of the Osprey project - Montgomeryshire Wildlife Trust, went ahead as planned.

The land at Cors Dyfi has seen many changes, once estuary, reclaimed grazing, then conifer plantation and finally wildlife-rich wetland. Today the reserve is a mixture of bog, swamp, wet woodland and scrub, supporting many animals and plants, and such diversity means that there are a great number of moth species to be found throughout the year, and tonight was no exception.

Once we had got base camp set up in the osprey visitor centre and all the traps up and running I gave a small introductory talk.


First moth in was a
Smoky Wainscot
, this would be the first of three wainscot species;
Striped Wainscot
and
Southern Wainscot
were to follow later; the
Round-winged Muslin
was also found. All these species are associated with water, as is
the UK's smallest macro species,
Marsh Oblique-barred
, which was found in small numbers (this is a nationally scarce B species). Other usual suspects were turning up; a fresh
Sallow Kitten
was admired by all, as was a
Peach Blossom
and later in the evening, a
Buff Arches
also had the same effect on people. Two species of Hawk moth were recorded: the
Elephant Hawk-moth
and the
Poplar Hawk-moth
, both good crowd pleasers. Other good records for the event were:
Rosy footman, Chevron, Dot Moth, Marbled White Spot
and
Suspected
. The only migrant to turn up was the
Silver Y
.

A good number of micro moth species were found, including;

Apotomis semifasciana, Eudemis profundana

and

Epinotia nisella

. The best micros of the night were

Epinotia cruciana

and

Anacampsis populella

, both of which became new county records earlier this year at this site (in A. populella's case only a few days ago).

Unfortunately our target species, the Rosy Marsh Moth once again didn't show. Still, it gives us an excuse to return to Cors Dyfi again next year.

Thanks to Emyr, his team, and all those involved in collecting the moths for making this a very successful event. I'm sure everyone had an excellent evening.

13/08/11 - Gregynog -SO085976
As we approached this event, the weather conditions were ideal and we expected a good evening but, unfortunately, the trapping didn't quite live up to the billing. It was just one of those strange evenings, where no-one had told the moths that it was a good night to be on the wing.
The evening started well enough with a
Devon Carpet
which is a nationally scarce B species. This was followed by a
Small Phoenix, Antler Moth
, and the ever-present
Large Yellow Underwing
. Single examples of
Pebble Prominent, Pale Prominent, Snout
and
Flame Carpet
were also brought to the table during the evening. The
Dingy Footman
was present in good numbers with a few
Common Footman
mixed in with them.
Riband Wave, Dun-bar
and
Common Carpet
were seen in small numbers throughout the evening. As we were about to call it a night, a dark form of
Brussels Lace
was also added to the evening's list.
Compared with the macro moths, the micro moths did show comparatively well throughout the evening. The first species to show up was

Ypsolopha ustella

, a long lived species which is on the wing from the end of July, then again after hibernation in the spring. Two species of grass moth were recorded,

Agriphila tristella

, which was the most common species of the evening, topped up with a few examples of

Agriphila straminella

. Nice singletons of

Pandemis corylana

and

Carcina quercana

were also found. The best micro of the evening was probably a single

Scoparia ancipitella

, an uncommon species in mid Wales.
Despite the poor showing of moths the nine people who turned up for the event all had an enjoyable evening and I'm sure we'll have another event at Gregynog in due course - it has great potential.
10/09/11 - Middletown -
SJ305121
The penultimate MMG event of the year was held at Bridge Cottage in Middletown. It was a quite a breezy evening which probably put off many species from flying, however, we did manage to record 38 species, which isn't too bad at all, given the windy conditions.
A stunning
Brindled Green
was the first to appear, closely followed by a
Brown-spot Pinion
, a species which is mainly restricted to the east of the county. Several of the late summer species were still to be found, these included,
Green Carpet, Straw Dot, Brimstone Moth, Snout, Flame Shoulder
and
Small Phoenix
. But it was the autumn species which really stood out, especially the striking Sallows:
Pink-barred Sallow, Centre-barred Sallow
and
Sallow
were all seen in good numbers. Other autumn species were the
Frosted Orange, Autumnal Rustic, Rosy Rustic, Setaceous Hebrew Character, Angle Shades
and
Copper Underwing Sp
.
Singletons of
September Thorn, Pinion-streaked Snout, Common Wainscot
and a very early
Brick
were also noted. The best records of the night were a
Figure of Eight
and a
Pale Eggar
which are both local and fairly uncommon in the county. The
Silver Y
was the only migrant macro species of the evening.
Micro moths were very thin on the ground with singletons of only five species recorded, these were,

Argyresthia goedartella, Agonopterix arenella, Acleris comariana, Celypha lacunana

and the only migrant species was

Udea ferrugalis

.
I would like to thank Clare Boyes for hosting the event and for keeping us topped up with drinks and nibbles. The seven of us enjoyed a very pleasant evening.
08/10/11 - Lake Vyrnwy -
SH967241
So, we've finally arrived at the last event of 2011.
The two days prior to the event were overcast, with either rain, wind or drizzle, and that's exactly what we got on the night, but as it happened, these conditions worked for us rather than against us and we did very well indeed.
As I was setting one of the traps up, the first moth gave itself up, a
Chestnut
, which flew onto my hand, an indicator that moths were on the wing, and as soon as we switched the traps on, species began to readily come to the light.
Spruce Carpet
was soon recorded, and as it turned out, was to be the most numerous species of the evening, it was everywhere! Other very common species were
Red-green Carpet, Common Marbled Carpet.
Green-brindled Crescent. Red-line Quaker, Yellow-line Quaker, Flounced Chestnut
and
November Moth Sp
were also quite common.
Of the more notable moths to make an appearance was a very late
Larch Pug
, a
Barred Sallow
which is normally restricted to the east of the county and the fairly uncommon
Oak Nycteoline
. A few 'crowd pleasers' made a show, these were: the stunningly beautiful
Merveille du Jour
, a
Vapourer
(which is not strongly attracted to light so isn't recorded as an adult very often), and an
Autumn Green Carpet
, a local species which is not often recorded in the county.
I suppose the only slight disappointment of the evening was absence of a good migrant species, (an appearance was a possibility due to the mild weather we'd been experiencing since the beginning of the month), however, we did catch a couple of the more common migrant species, a
Silver Y
and the micro moth

Udea ferrugalis

.
In general, Micro moths were thin on the ground, but we did find
Acleris notana,
Acleris emargana

and a rather stunning

Ypsolopha sequella

(a species which I hadn't personally seen before).
I would like to thank Clare for bringing some very scrumptious fudge brownies and other goodies which were very quickly devoured, and for everyone who turned up in not very good weather conditions. An October event can be difficult depending on the weather, but on this occasion I think we did rather well and everyone went home happy.
During the winter months we will sort out the events programme for 2012 and I hope they turn out to be as successful as those of 2011. I hope to see you all again next year.