UK Status



Resident and suspected migrant. Local SW,WC,N

Montgomeryshire Status

Rarely recorded. When found at Llandinam Gravels in 2011 it was the first county sighting for 34 years. Then 3 days later, another was trapped at Commins Coch. Since then we have had a few more records coming from scattered sites, mainly from the south of the county.



Wingspan :

M & F, 32-40mm.



Confusion species



None.

Flight time (Montgomeryshire)



Habitat

Moorland.

Foodplant

Bog myrtle, meadowsweet, creeping willow, bilberry and heather.

Lifestage data

Overwinters as a pupa underground. Larva June-August, feeds mostly at night.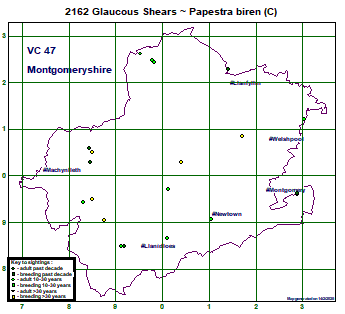 Click map for larger image