Click the event location to view the species recorded



12/04/14 - Lake Vyrnwy - SH965241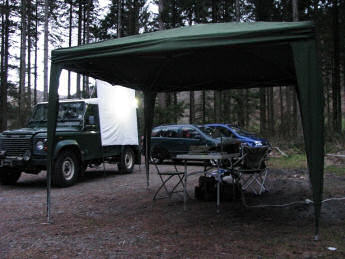 White Sheet at Lake Vyrnwy
Well, it's April and the first event of the year was last Saturday. The weather didn't look too promising. During the previous week or so nightly temperatures had dipped and the general weather had been accompanied by a chilly breeze, all of which didn't bode well for good mothing.

When I arrived on site Douglas and Dave were already there, we all mumbled something negative about the weather then proceeded to set up base camp. The chilly breeze was blowing along the car park from the main road so we decided to give the 'white sheet set up' some protection. We fixed it on the side of my Landover (as pictured), facing away from the breeze; this seemed to be the best answer. As we were setting up the other traps Chris Williams turned up with his traps, so ultimately we had the site well covered with seven traps – shortly after 8pm the lights were switched on - all we needed then were the moths.

Mutterings about the cold night continued and, as usual, several of us gave our prediction as to how many species would be trapped during the night; this ranged between 11 and 18 (the 18 was mine guess, very optimistic by the way). It wasn't long however before the first moth was potted, a Chestnut, this was quickly followed by influx of species; Hebrew Character, Small Quaker, Common Quaker and Red Chestnut. This was making me think that my 18 species wasn't too optimistic after all, but things slowed down after that and I knew I was on a looser. Slowly, throughout the evening, further species came to the table: Clouded Drab, a pristine Pale Brindled Beauty and Mottled Grey, but it was hard going especially hanging around in the cold. As the evening drew on, a Twin-spotted Quaker and a cracking Water Carpet were potted. The final species of the evening, and arguably the best, was a lovely Pine Beauty, a species which several attending hadn't seen before.

Unfortunately, our target species, the Blossom Underwing, didn't make a show and no micro moths were recorded, although Douglas did see one micro but it dive bombed into the undergrowth as he swished the net to catch it – the one that got away!

Shortly after 11:00pm we decided to call it a night. Chris Williams had rightly guessed that 11 species would be recorded. I get the dunces hat for being way off the mark with my 18, still, what do I know, I must do better next time! Another debate ensued throughout the evening as to what the actual temperature was. Both Douglas and I had taken along thermometers and we joked about the differing temperatures both devices showed throughout the evening, but quality came to the front in the end, and of course my thermometer which showed 6.7c. was clearly correct and this was the lowest temperature recorded (however, had Douglas written this report I feel this tale may have had a different outcome!!). I sense the 'battle of the temperatures' may continue on our next event!

Many thanks to the ten enthusiastic moth-ers who turned up for the event. It was an excellent number for this time of year given the weather conditions. Let's hope our next event at Llanymynech Rocks is a little more conducive for our mothing.

Peter.

10/05/14 - Llanymynech Rocks - SJ267218
It was 6:30 pm and I was about to leave for Llanymynech Rocks for the evening's mothing event, but I must admit, there was more than a little bit of trepidation in my mind as to whether I should have cancelled the event. It had rained for most of the day (very heavy at times), at my home in the west of the county, but I had kept an eye on the weather forecast which seemed to suggest that the further north and east you travelled in Wales, the more patchy and light the rain would become. Several people had contacted me throughout the day to confirm whether the event was still on and going by the strength of the weather forecast, and the gazebo serving as a dry base camp, I had said yes, so, I was really keeping my fingers crossed that the weather would 'play ball' and not turn awful.

During my journey to Llanymynech Rocks (which takes me about an hour), it became apparent that the rain was indeed getting lighter, this certainly lifted my spirits and by the time I arrived 'on site' the rain was almost non existent. I was greeted by Chris, Douglas and Rhona, we all had a quick chat about the weather (as you do), then proceeded to set the traps up, which were all switched on at about 9:00pm. Unfortunately, Rhona's generator was playing up, we tried to get it going, but it kept cutting out, so we gave up on using that particular trap. We were now running 4 x 125w mv traps, 1 x 30w synergetic trap and a white sheet using a 125w bulb. By now, eleven of us had braved the weather and turned up, so I really hoped that the main participants in this theatre, i.e. the moths, were going to play their part and arrive on cue... and they did, not in numbers, but they were there to be recorded.

Within the first few minutes of switching on the traps, a Small Phoenix and a Spruce Carpet were potted, these were soon followed by a Scalloped Hazel, Green Carpet and the White-pinion Spotted, a species which can be quite uncommon, but we saw a few during the evening. A pristine Brimstone Moth was brought to the table along with what was probably the best species of the evening, a Dark Brocade. As the evening progressed, species were steadily coming to the table, Flame Shoulder, Common Marbled Carpet, Silver-ground Carpet, Flame Shoulder, Pale Tussock and a very nice Clouded Silver. There were a few Nut-tree Tussock and Shuttle-shaped Dart and a Treble Lines, the only pug of the evening was a
At approx 12:30am we decided that we'd had enough and as we were packing away the kit we found a Buff-tip, a Small Square-spot, and a very nice Cream Wave sitting on the outside of a trap; what a nice way to wrap up the event.

We had come along to this site with the hope of recording a few species which are particularly associated with limestone and we weren't disappointed as we recorded the Small Waved Umber and a Light Feathered Rustic, both good species for the county.

Micro moths were very thin on the ground and only one species was potted, a Pyrausta aurata. A few others were seen, but the windy conditions meant that netting them was really difficult. On this occasion, no migrant species were recorded.

Unfortunately, the white sheet, which is usually very good at drawing the moths to it, was pretty useless at this event, because of the gusty wind, nothing much settled on it, or if it was soon blown off.

Many thanks to Rhona from Shropshire Wildlife Trust, with whom I organised this joint event, and to everyone else who came along, for what in the end, turned out to be quite a good evening's mothing.

Peter.
07/06/14 - Trafel Gwyn - SN895758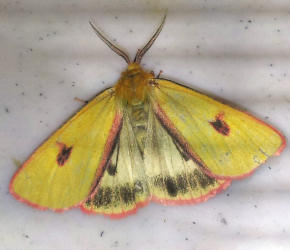 Clouded Buff at Trafel Gwyn
After rather less than ideal trapping conditions during our first two events of the year, we were due a bit of a break in our favour and as it turned out we did slightly better than that, and for most of the event, at Trafel Gwyn an upland site, it stayed dry. It was quite humid and the temperature held up to above 11c. During the day we had heavy showers and thunderstorms, then it was forecast to be drier later with just a few showers – the weather played ball and we had almost ideal conditions throughout the whole evening.
The six of us who had turned up all did our usual guessing as to how many species we would record and generally speaking the guesses were all pretty high – we waited in anticipation for the traps to be switched on and at about 9:30 the generators hummed into action.
Douglas had already found a
Green Carpet
and a
Syndemis musculana
while he was setting up the traps, so we had already got off to a good start and it wasn't long before species were coming in at a good rate; a fresh
Brimstone Moth
, and the local, but fairly common
Devon Carpet
were soon on the table. The
White Ermine
was seen in good numbers, as was the
Brown Silver-line, Small Angle Shades and Common Marbled Carpet
. Both forms of
Clouded-bordered Brindle
were recorded, along with the usual form of
Peppered Moth
.
Moths were now coming in thick and fast and after an hour or so a fabulous
Small Elephant Hawk-moth
was bought to the table (its allied species the
Elephant Hawk-moth
was seen later in the evening). Many of the usual suspects you would expect to see at this time of year were now coming to light; the
Broom Moth, Flame, Purple Bar, Buff Ermine
, a first generation
Ruby Tiger
and several
Dark Brocade
a species which is normally recorded in single figures, were all potted. Singletons of
Green Arches
, the
Miller, Pale-shouldered Brocade, Dusky Brocade, Brown Rustic
and the quite uncommon
Oblique Carpet
were all seen. Three species of
Pug; Foxglove, Common
and
Grey
and two species of prominent; the
Pebble Prominent
and the curious looking
Pale Prominent
were also recorded. As the evening drew to a close and we were packing away the kit, Douglas shouted out '
Clouded Buff
', and what a way to end the evening with this superb, scarcely seen, species.
Micro moths were pretty thin on the ground, with only seven species being recorded; the best species was
Scoparia pyralella
. No migrant species were recorded.
Trapping at upland sites have always got a high degree of a risk of failure because good days can be pretty thin on the ground, and even if you do manage to trap, the weather can deteriorate so quickly, so we were more than happy with our evening at Trafel Gwyn, it was an excellent trap and we've managed to put 'dots on the map' where none existed before. And who (I hear you ask) guessed the closest to the 47 species which were recorded, well, that was Neil, a first timer on one of our events – so well done Neil.
Peter.
05/07/14 - Llyn Coed y Dinas - SJ221052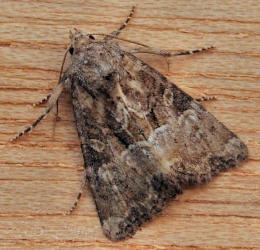 The first Cloaked Minor for 25 years
The two nights preceding the 'Moth Night' event were humid and mild, excellent conditions for mothing and I was keeping my fingers crossed that this would also be the case on the night of the event, which we were holding at the Coed Y Dinas Nature Reserve (the first time we had held an event at this site). As it happened, luck was on our side and Saturday gave us more of the same weather conditions, with the temperature just dropping off in the early hours of Sunday morning, but our trapping was done and dusted by then – and what an excellent evening we had.
This 'Moth Night' event was jointly organised by the MMG (Montgomeryshire Moth Group) and the MWT (Montgomeryshire Wildlife Trust) who were bat recording. Surveying work for both moths and bats had never been carried out at this reserve before so everything recorded would put new dots on the map. The evening got under way with a short talk on moths and mothing by myself and bat recording by Tammy Stretton, then, while Tammy took everyone for a walk recording bats with the detectors, the moth traps were switched on.
Moths seemed to be giving themselves up as soon as the taps were fired up; the
Dark Arches
was first to show, this was followed by many of the usual suspects (see 'species list' for complete list). Those worthy of an extra mention are;
Short-cloaked moth
– a species which is only found on the eastern side of the county,
Brussels Lace, Barred Yellow, Poplar Grey
and
Slender Pug
– all of which are fairly uncommon species. The
Southern Wainscot
which is associated with common reed was definitely an unexpected find as before now it had only been recorded in the far west of the county in the Cors Dyfi area. Finally the best macro record of the evening must go to the
Cloaked Minor
(pictured), as species which had only been recorded once before in the county, in 1989 at Newtown.
Micros weren't to be outshone by their larger cousins either. Unlike our first three events of the year, where they were pretty thin on the ground, this time they were out in numbers, and 48 species were recorded. First to show was the Small China-mark
Cataclysta lemnata
, this was quickly followed by the larger Brown China-mark
Elophila nymphaeata
. Other species worthy of mention are: - the third county record of
Acleris bergmanniana
; only the second 'site record' of
Batia unitella
; the second county record of
Gypsonoma oppressana
; and last but not least,
Coleophora spinella
, which was a new species for the county.
Once again no migrant species were recorded at this event.
As far as the bat detecting went, three species were recorded on the evening, Soprano Pipistrelle, Common Pipistrelle & Daubenton's. Tammy had also brought along her computer where she was showing us the sonogram traces of the echo calls which the bats made while in flight and when feeding, amazing stuff.
Coed Y Dinas proved to be an excellent site for holding an event and I really don't know why we've never been there before, but we shall definitely return. In all, 111 species of moths were recorded throughout the event. It was an all round excellent evening. I would like to thank Tammy for the 'batty' side of things, and to all those who helped with lugging the mothing kit and collecting moths, a big thank you to you all as well.
Peter.
02/08/14 - Cors Dyfi - SN704984
The weather had been very warm and dry the week before the event but then on the Saturday heavy rain was forecast and there were mutterings as to whether it should be cancelled or not. It was quite a difficult call, but in the end I decided that as the event was going to be part of the Cors Dyfi bio-blitz week, (so it would be a shame to have cancelled it), and that the site offers us a dry and secure base camp, that it should go ahead. I'm pleased we took this decision because although we had a few heavy showers throughout the evening, it was dry for much of the time, the heavy rain which was forecast, didn't really happen.
Between us, we set up eight traps throughout the site and by 9:00pm all the lights were switched on. The pretty little
Rosy Footman
was first to show and this was shortly followed by a
Rufous Minor
, which turned out to be a very common species throughout the night. It wasn't long before moths were coming in a steady rate (see 'species list' for complete list). Those worthy of a mention are
Devon Carpet
, a local species; a rather nice
Rosy Minor
a species which is infrequently recorded and our smallest macro species, the
Marsh Oblique-barred
. There were also a few good 'crowd pleasers' a huge female
Drinker
, a very large
Garden Tiger, Black Arches, Lesser Swallow
and
Swallow Prominent
, and those who had brought along their cameras were busily clicking away.
The wet conditions did tend to put a damper on the amount of Micro species which were recorded and in the end we managed to reach just 25 species (much lower than we've had on previous occasions). However we did manage to record a few good species, the best of the bunch were; Incurvaria oehlmanniella, this was only the sixth record for the county;
Mirificarma mulinella
, only the 3rd site record;
Helcystogramma rufescens
, 8th county record;
Apotomis semifasciana
, 5th county record and
Epinotia caprana
, 5th county record.
There was only one migrant species recorded, a single
Silver Y
.
By 1.am things had slowed down pretty much and we decided to call it a night, but as usual the traps yielded a few late offerings;
Burnished Brass
,
Dark Marbled Carpet, Common Marbled Carpet, Golden-rod Pug, Coxcomb Prominent, September Thorn
and a
Yellow-barred Brindle
which all helped to boost the evening total to 82 species, not bad, but well down on what this site would normally give us on dry, mild evening.
I would like to take this opportunity to thank Maria Wagland (MWT site species officer) for her part in co-ordinating and organising the Cors Dyfi event, as usual, with her help, everything went very smoothly. The weather certainly played a part in keeping some people away from the event, but 19 did risk the wet weather forecast and I'm sure that they all had a good time.
Peter.
30/08/14 - Pont Llogel - SJ032154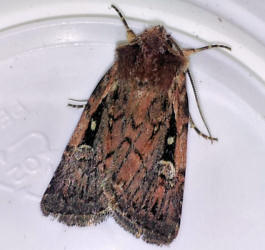 Heath Rustic
Having experienced rather a long spell of cold and windy weather, it was a very pleasing to see a promising outlook for our August event at Pont Llogel. The forecasters were quite right and the night turned out fairly mild (at least in comparison to other recent nights!), not dropping below 10°C but staying above 12°C for most part. Peter and I both brought traps: we were able to illuminate the woodland with 6 MVs and 3 actinics.
The first species to light was
Common Marbled Carpet
. Throughout the night many more were seen, along with its slightly more uncommon cousin, the
Dark Marbled Carpet
in roughly equal proportions - a great chance to compare these two similar species
.
With summer drawing to a close, the lovely sallow species are just beginning to emerge. We only recorded a single
Centre-barred Sallow
on this occasion. Luckily there were a few other attractive species on the wing - for example
Black Arches, Iron Prominent
and
Canary-shouldered Thorn
- to break up the large numbers of
Large Yellow Underwing
and
Flame Shoulder
.
The first good record brought to the table was an immaculate
Heath Rustic
. A fairly uncommon species in the county, usually more at home on heathland or moorland than in woodland, though heather (the larval foodplant) is present on the site. It wasn't long before another good record was added to our list:
Barred Chestnut
. We recorded at least five individuals (most rather worn) throughout the night; this provided an excellent opportunity to get our eye in with this fairly uncommon species.
Other good records included
Oblique Carpet, Anomalous, Golden-rod Pug
and
Epinotia trigonella
.
We caught a total of 42 species and a further 7 were recorded as leaf mines (see full list on the link above). Many thanks to everyone who joined us and, once again, a special thanks to Sue S for bringing cake!
Douglas.
27/09/14 - Coed Pendugwm - SJ103143
The weather forecast had been very promising for this, our penultimate event of the year and indeed during the day on Saturday it was cloudy and calm and prospects for a good event and species list looked very likely.
When I arrived on site by about 6pm Douglas was already there looking for leafmines and during a short spell of time he had managed to find six of the more common species, mostly on hazel, he had also found a fully grown Buff-tip larva feeding on hazel, so we had got off to a good start even before the traps were switched on.
This event was actually a joint affair between the Montgomeryshire Moth Group (MMG) and Montgomeryshire Wildlife Trust (MWT). The MWT were carrying out bat recording and their evening's activities were led by Tammy Stretton. There was a good turn out of 15 folks for the initial 'batty talk' which Tammy gave, and everyone seemed very interested with all the information she provided. After the talk, bat detectors were used during a short walk and throughout the evening. The three species recorded were, Common & Soprano Pipistrelle and Noctule. The human and bat 'chatter' complemented the evening very nicely for us all.
While Tammy was giving her talk, Douglas and I 'fired up' all the moth traps and it wasn't long before moths were potted and everyone gathered to admire them. The first species was seen on the white sheet, it was a pristine and beautiful
Barred Sallow
, a species to brighten up any trap in the autumn. This was quickly followed by
Common Marbled Carpet
(probably the most numerous species of the evening). The
Red-green Carpet
was also seen in good numbers. Other arrivals were The
Brick
, the
Chestnut
and the sulphur-yellow
Brimstone Moth
. After a while a
Yellow-line Quaker
was brought to the table and led to an 'on the spot workshop' on how to diagnostically separate this species from the Brick. These live diagnostic opportunities are always very interesting and there is much agreement and nodding of heads when people finally see the differences between two close looking species. As the evening drew on, a
Merveille du Jour
was potted; this beautiful moth is a real 'crowd pleaser' as is the
Figure of eight
which was also recorded.
We fared pretty well with the micro moths with 17 species being recorded. A few of the notable species were;
Acleris sparsana, Epinotia brunnichana, Ypsolopha parenthesella
and the unusual
Acleris emargana
with its' nibbled out wings'.
No migrant species were recorded at this event.
By about 12:30 we decided to call it a night and do our final round of the traps, checking for moths and packing the kit away as we went and a few latecomers were added to the list;
Straw Dot, Flame
and the uncommonly recorded
Grey Pine Carpet
which was probably the best species of the evening (Please see link above for the full list of moth species recorded during the evening).
Throughout the evening we were all very lucky to see several Hornets dancing up and down on the white sheet, a species which I must say, I haven't encountered at a moth event before. I think these wonderful hornets definitely 'stole the show', what beautiful and generally passive creatures they are.
Many thanks to Tammy for adding bats to the evening's interest and to the 15 people who turned up, I'm sure we all had a very interesting and informative evening.
Peter.
25/10/14 - Dolforwyn Woods - SO155959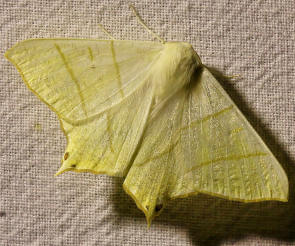 The latest Swallow-tailed moth recorded in the county by nearly 10 weeks
This was the latest date in the year that an event has ever been held, which meant we needed to arrive on site at 5.30pm to get everything in place before darkness descended. As we began unloading the equipment we had the first surprise species of the night, the once very common, but recently rather scarce Douglas Boyes, drawn by the irresistible lure of the mercury vapour lamp all the way from Oxfords dreamy spires. With Douglas's help we soon had 8 traps plus the white sheet in place and took cover from the drizzle under the gazebo at base camp for tea and sandwiches as darkness closed in.
It wasn't long before the first moths began to arrive, a
Green-brindled Crescent
, and the first of many
November Moths
. These were quickly followed by
Merveille du Jour, Red-green Carpet and Yellow-line Quaker
.
The best micro of the night was
Acleris hyemana
, more usually found on moorland, but probably attracted to the site by the presence of heather along the edges of the woodland tracks. The Acleris family was well represented with
emargana, laterana, sparsana, rhombana and ferrugana
also being recorded. Other micros were
Agonopterix heracliana
and a very nicely marked
Ypsolopha parenthesella
.
The most unexpected macro of the night was a
Swallow-tailed Moth
, in excellent condition. Until now the latest date this had been seen in the county was 17th August, so this particular individual has exceeded that by almost 10 weeks.
Throughout the evening
November Moths
were present in large numbers, along with reasonable numbers of
Chestnut
. These were interspersed with quite a few
Spruce Carpets
and
December Moths
. The large number of
November Moths
meant Peter was able to select well marked examples and point out the difference in discal markings between
November, Pale November and Autumnal Moths.
There were few new species after 10pm, just
Black Rustic
and
Blair's Shoulder-knot
being added to the list, and at 11.30pm we began to pack up. The last check of the traps yielded a rather worn
Snout
, and as we took down the white sheet a
Figure of Eight
put in a last minute appearance.
Douglas then provided the final entertainment of the night by trapping a moth in his right ear. As he leapt around in considerable discomfort Peter was adamant he had seen it leaving via the left ear.
A total of 21 macros (not including 'ear moth') and 8 micros were recorded, an excellent result for the time of year. This was due to the favourable weather conditions as, although it drizzled intermittently throughout the evening, and was at times quite windy, the minimum temperature remained above 11 degrees C.
New macro species for the site were December Moth and Blair's Shoulder Knot. New micros were Acleris hyemana, ferrugana, and rhombana and Agonopterix heracliana. This brings the total number of species recorded at this site to 338; an impressive total considering the low number of occasions that trapping has taken place here.
Thanks to Chris Williams for bringing his four traps, Sue Southam for supplying cake again and Meurig Garbutt for the photo of the Swallow-tailed Moth.
Paul Roughley.