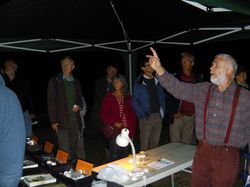 "It went that way..."
Saturday had been a very calm day as far as the weather was concerned, so everything looked very hopeful for the event, and quite frankly, after last year's event at the same site, where it rained heavily for most of the night, – anything would be better.
We got on site at 8:00pm, where we met up with Rhona and Phil, who were representing Shropshire Wildlife Trust in this joint event with the MMG. The weather was still settled and fairly mild, so we were all chomping at the bit to get started and we were all hopeful of recording our target species for this event, the very elusive Mouse Moth as we dearly wanted a photo for our web site.
Base camp was set up on a flat patch of ground where we had previously been and then all the traps were set out along a fairly linear area, no sooner had we done this the lights were switched on and there was just time for a quick bite to eat and a cuppa before the members of the public met in the car park and Rhona walked them up to base camp.
As usual, I gave a small introductory talk to the very enthusiastic crowd of 23 people and even while I was doing this, Douglas and Peter were bringing moths to the table – it was going to be a very busy night.
Interestingly, the first moths to be potted were three micro moths, all members of the grass moth species;
Agriphila straminella, A. tristella, A. inquinatella
; later, these were added to by
A. geniculea, Catoptria pinella
and
C. falsella
. The first Macro moth was the
Small fan-footed Wave
, shortly followed by the very common
Large Yellow Underwing
. Next up was the
Annulet
, a species which seems to do very well at this site as we found it to be fairly common.
The evening was in full swing and many pots filled with moths were coming in at a very fast rate. I could hardly keep up with identifying them, but thankfully Douglas stepped in and gave a hand at the table with the id work. To name but a few;
Orange Swift, Yellow Shell, Shaded broad-bar, Pebble Hook-tip, Sallow Kitten
, and the beautifully iridescent
Gold Spot
were all showing their beauty when Rhona brought the star of the show to the table, the fabulous
Magpie Moth
. Everyone agreed that it was up there with the best of our butterflies. As the evening continued, still more lovely species were trapped; three Thorn species,
Dusky, Early
and
Purple
opened a few eyes and these were accompanied by
Copper Underwing, Lychnis, Yellow-barred Brindle
and the
Swallow Prominent
. As the evening came to a close there was the usual last flurry of species to be added to the list, including the
Engrailed, Dark Marbled Carpet
, and the very late
Heart & Dart
and
Triple-spotted Clay
. In all, the event yielded an excellent total of 73 species of macro moth.
As for other micro moths, the total was just as impressive with 44 species recorded, the most notable ones were;
Cochylis hybridella, Pyrausta despicata, Ypsolopha scabrella, Pyrausta cingulata
(5th county record) and the plume moth
Hellinsia osteodactylus
.
Notable species for this site were;
Pretty Chalk Carpet, Small Waved Umber
and
Haworth's Pug
which are all limestone loving species.
Only three migrant species were recorded;
Silver Y, Dark Sword-grass
and the small micro moth
Udea ferrugalis
.
The best species of the night was a Dart which none of us could identify at the time, but later under closer examination it proved to be a
White-line dart
which was only the forth record of this species in the county.
As for our target species, the Mouse Moth, try as we may, once again we failed to record this species, so still no photo for us; who knows, perhaps we should have put more cheese in our traps! Anyway, we all went away with the same sentiment 'we will return'.
However, this story does have a rather interesting footnote. The following day, when I opened up my-mails I had one from Douglas, titled 'You won't believe it' and attached was a photo of a Mouse Moth which he had caught that night in his home moth trap. Don't you just love stories with happy endings!
Many thanks to Rhona and Phil from SWT and Douglas and Peter who worked tirelessly throughout the event collecting and identifying species and finally for all the members of the public who I'm sure had a wonderful evening.
Peter.