UK Status



Resident. A common and widespread species found throughout Britain.

Montgomeryshire Status

First recorded in 2012 at Middletown in the east of the county.



Wingspan :

M & F 11-20mm.

Confusion species

E. scutulana, E. sticticana & E. cnicicolana.

Flight time & Voltinity

(Univoltine.)

Habitat

Grassland, Marshes and woodland.

Foodplant

Marsh thistle and common knapweed.

Lifestage data

Stem feeder and root borer. Eggs laid on foodplant. Larva lives and feeds in the root and/or stem. Pupa is brown in a silken cocoon in the upper part of the larval habitation.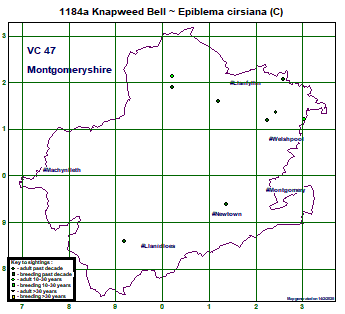 Click map for larger image