UK Status



Resident. Found in England from the Pennines northwards and in Wales but more common in the north.

Montgomeryshire Status

Found in a few scattered sites in the west and north of the county.



Wingspan :

M & F, 12-16mm.

Confusion species

None.

Flight time & Voltinity

(Univoltine)

Habitat

Moorland.

Foodplant

Bilberry.

Lifestage data

Spinning. Eggs laid on underside of leaf. Larva spins a leaf edge into a pod and feeds within. Pupates in a folded leaf spun up in the litter on the ground.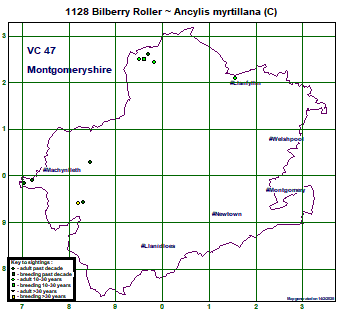 Click map for larger image