UK Status



Resident. Widespread throughout the British Isles as far north as Easter Ross.

Montgomeryshire Status

A fairly common species which has been recorded from relatively few sites in the county, mainly because of it's early flight time in the year.



Wingspan :

M & F, 19-23mm.

Confusion species

None.

Flight time & Voltinity

(Univoltine)

Habitat

All woodland, but especially oak.

Foodplant

Various trees and shrubs.

Lifestage data

Spinning. Eggs laid on foodplant. Larva forms a spinning amongst the leaves of leaf edge and feeds within. Pupates in a tough cocoon of earth and silk, in debris on the ground.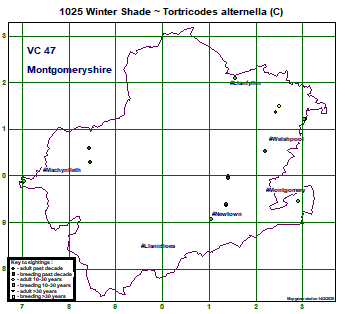 Click map for larger image