UK Status



Resident. Widespread and locally common throughout England and Wales.

Montgomeryshire Status

Discovered in the east of the county at Middletown in 2012. This was only the tenth record for north Wales.



Wingspan :

M & F 12-14mm.

Confusion species

Other Monochroa sp.

Flight time & Voltinity

(Univoltine.)

Habitat

Fenland, marshland and water meadows.

Foodplant

Spike-rush.

Lifestage data

Shoot and stem feeder. Eggs laid on foodplant. Larva feeds inside shoots and stems. Pupa undescribed.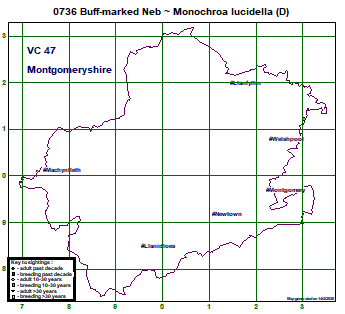 Click map for larger image