UK Status



Resident. Found in northern England, the west of Wales and Scotland where it is common.

Montgomeryshire Status

Recorded from a single site in the west of the county, Commins Coch in 2006.



Wingspan :

M & F, 19-23mm.

Confusion species

None.

Flight time & Voltinity

(Univoltine)

Habitat

Wherever the foodplant is found.

Foodplant

Rock-cress, flixweed and dame's violet.

Lifestage data

Spinning. Eggs laid on the foodplant. Larvae feed in a loose web, often gregariously. Pupates in an open network cocoon under a leaf or occasionally on the ground.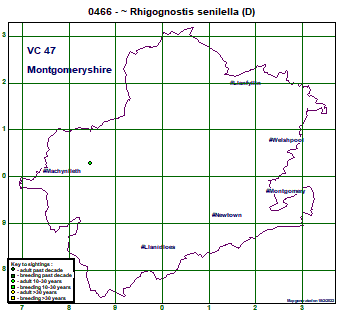 Click map for larger image