UK Status



Resident. Found in the southern half of England and Wales, more common in the south.

Montgomeryshire Status

First recorded in the east of the county at Middletown in 2012. This was only the second record for north Wales.



Wingspan :

M & F 17-19mm.

Confusion species

None.

Flight time & Voltinity

(Univoltine.)

Habitat

Scrub on chalk and limestone.

Foodplant

Spindle.

Lifestage data

Eggs laid on foodplant. Larva lives and feeds gregariously in a silken web on the leaves. Pupa is brown, in a spinning, singly amongst the leaves. .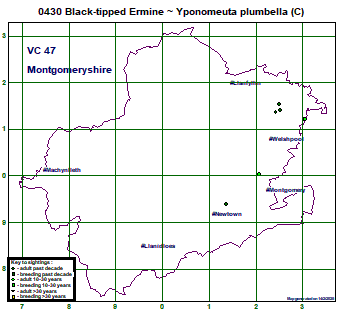 Click map for larger image