UK Status



Resident & Migrant. Widespread and common throughout the British Isles.

Montgomeryshire Status

Common. Recorded throughout the county.



Wingspan :

M & F, 19-25mm.

Confusion species

None.

Flight time & Voltinity

(Univoltine)

Habitat

Wherever the foodplant is found.

Foodplant

Bird cherry, wild plum and rowan.

Lifestage data

Shoot miner/web former. Eggs laid in a cluster of 50-100 on the foodplant. Larva first mines the shoot, then feed gregariously in a web. Pupates gregariously in the web.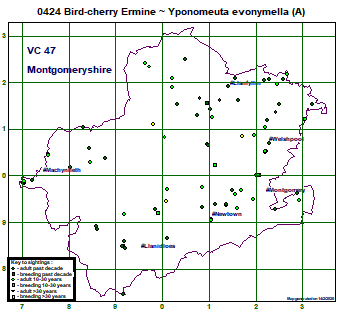 Click map for larger image