UK Status



Resident. Widespread and common throughout the British Isles.

Montgomeryshire Status

Recorded from several sites in the north of the county.



Wingspan :

M & F, 10-14mm.

Confusion species

A. spinosella and A. semifusca.

Flight time & Voltinity

(Univoltine)

Habitat

Wherever the foodplant is found.

Foodplant

Rowan and apple

Lifestage data

Fruit miner. Eggs laid on the unripe fruit of the foodplant. Larva feed inside fruit. Pupates in a dense silken cocoon just under the ground or bark.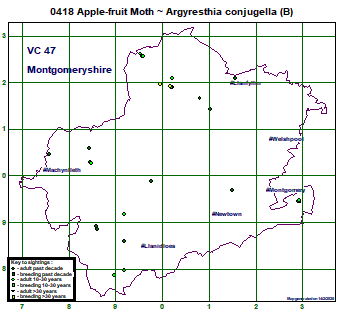 Click map for larger image