UK Status



Resident. Widely distributed and fairly common throughout the British Isles.

Montgomeryshire Status

First found in the north of the county in 2014 in the Lake Vyrnwy area. Only the 2nd time recorded in north Wales.



Wingspan :

M & F 11-13mm.

Confusion species

Argyresthia glabratella.

Flight time & Voltinity

(Univoltine.)

Habitat

Larch plantations.

Foodplant

Larch.

Lifestage data

Leaf miner. Eggs laid on twig. Larva first mines shoot, overwinters as larva, feeding again in spring. Pupates on a shoot.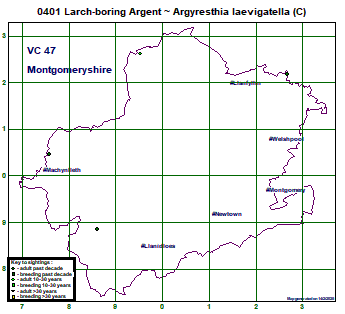 Click map for larger image