UK Status



Resident. Found throughout the British Isles but more common in the western counties.

Montgomeryshire Status

Just a single old record from the west of the county at Cienws in 1980.



Wingspan :

M & F, 8-9mm.

Confusion species

B. ulmella.

Flight time & Voltinity

(Univoltine)

Habitat

Open woodland, moorland, heathland and boggy areas.

Foodplant

Birch, hazel and sweet chestnut.

Lifestage data

Leaf miner. Eggs laid on underside of leaf. Larva mines narrow contorted gallery then straighter, later eating a window on either side of leaf. Pupates in a cocoon spun amongst detritus.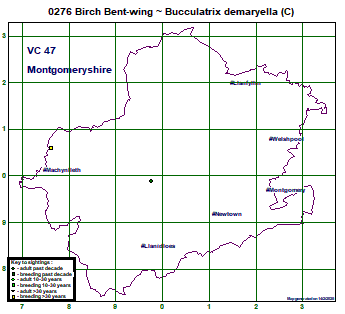 Click map for larger image