UK Status



Resident. Common and widespread throughout the British Isles.

Montgomeryshire Status

Found in scattered sites throughout the county. Probably overlooked.



Wingspan :

M & F, 14-22mm.

Confusion species

None.

Flight time & Voltinity

(Bivoltine?)

Habitat

Bird's nests.

Foodplant

Detritus and woollen material in the open.

Lifestage data

Case-bearing. Larva when small or when moulting possibly make a case. Pupates in a rough cylindrical case.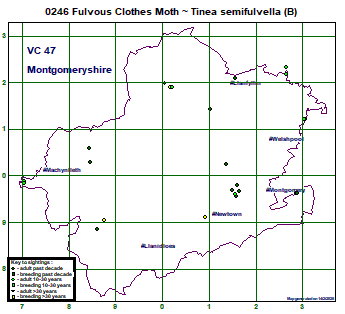 Click map for larger image