UK Status



Resident. Widely distributed and fairly common throughout most of the British Isles.

Montgomeryshire Status

Uncommon. Just two records taken from the east of the county, the last one from Caersws in 2003. Probably under-recorded.



Wingspan :

M & F, 9-16mm.

Confusion species

None.

Flight time & Voltinity

(Continuous)

Habitat

Mainly indoors, occasionally outside.

Foodplant

Woollen products, animal fibres, fish meal, flour and bird's nests.

Lifestage data

Case-bearing. Larva feeds in portable flimsy silken tube that particles of food adhere to, much webbing is produced which may contain several larvae.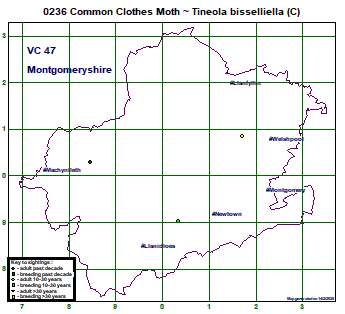 Click map for larger image