UK Status



Resident. Widely distributed and common throughout the British Isles.

Montgomeryshire Status

A few scattered records.



Wingspan :

M & F, 13-20mm.

Confusion species

M. weaverella.

Flight time & Voltinity

(Univoltine?)

Habitat

Wherever the food source is found.

Foodplant

Bird's nests, bird guano, owl pellets, dead birds and animals and stored products.

Lifestage data

Eggs are laid on larval food. Larva feeds in a silken tunnel and forms much webbing. Pupates within larval food.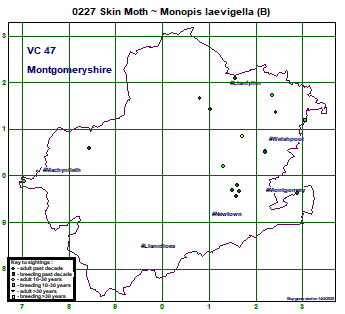 Click map for larger image