UK Status



Resident. Found locally throughout most of mainland Britain, except the far north of Scotland.

Montgomeryshire Status

Rare. A single record taken from Powis Castle in the east of the county in 1999.



Wingspan :

M & F, 15-22mm.

Confusion species

None.

Flight time & Voltinity

(Univoltine)

Habitat

Wherever the foodplant is found.

Foodplant

Bracket fungi.

Lifestage data

Eggs are laid on larval food. Larva feeds on a variety of bracket fungi and dead wood. It has also been found in callus tissue around wounds.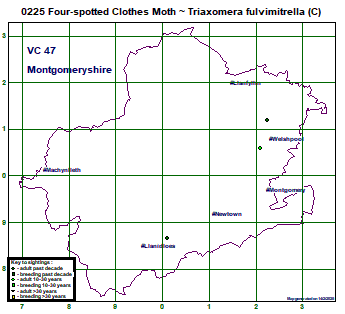 Click map for larger image