UK Status



Resident. Found very locally in England as far north as Westmorland.

Montgomeryshire Status

A single record taken from Llanfyllin in the north of the county in 2009.



Wingspan :

M & F, 12-19mm.

Confusion species

None.

Flight time & Voltinity

(Univoltine)

Habitat

Wherever the foodplant is found.

Foodplant

Various fungi and occasionally rotten wood.

Lifestage data

Eggs are laid on larval food. Larva feeds on bracket fungi found on birch.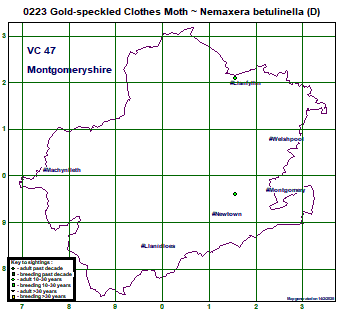 Click map for larger image