UK Status



Resident. Very local in the southern half of the British Isles.

Montgomeryshire Status

This species was first recorded in 2014 at Middletown in the east of the county. An excellent new record for north Wales.



Wingspan :

M & F 15-17mm.

Confusion species

Nematopogon panzerella and Nematopogon pilella.

Flight time & Voltinity

(Univoltine.)

Habitat

Woodlands, fens and marshes.

Foodplant

Herbaceous plants.

Lifestage data

Eggs laid on petiole of plant. Larva falls to ground and makes a case where it feeds on low plants.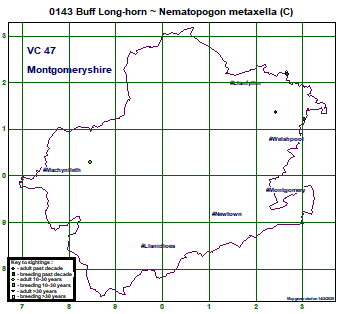 Click map for larger image