UK Status



Resident. Quite well distributed throughout the British Isles, but more common further north.

Montgomeryshire Status

Just three records in the north of the county from the Lake Vyrnwy area in 2007 & 2010.



Wingspan :

M & F, 12-16mm.

Confusion species

Some species of Incurvaria are very similar. One of the best ways of separating them is to identify the pupal case.

Flight time & Voltinity

(Univoltine)

Habitat

Wherever the foodplant is found.

Foodplant

Birch.

Lifestage data

Leaf miner/Case-bearing. Eggs laid on leaf. Larva forms small white blotches, then a case which falls to ground. The larva continues to feed and case is finally attached to a vertical surface where pupation takes place.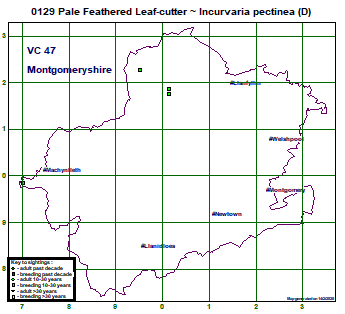 Click map for larger image