UK Status



Resident. Widespread and locally common throughout Britain as far north as Aberdeenshire.

Montgomeryshire Status

A handful of records, mainly from the southern half of the county.



Wingspan :

M & F, 4-5mm.

Confusion species

Many species of Stigmella are similar. A good way of separating them is to examine the type of leaf-mine in the foodplant.

Flight time & Voltinity

(Univoltine?)

Habitat

Wherever the foodplant is found.

Foodplant

Birch.

Lifestage data

Leaf miner. Eggs are laid on the underside of the leaf. Larva forms a narrow gallery which is strongly contorted. (Mines of some species are similar, care is required with identification).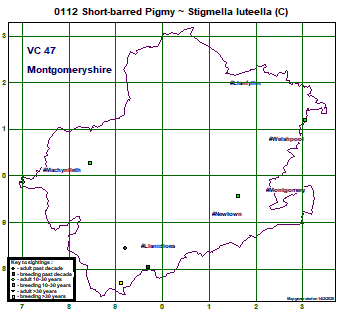 Click map for larger image