UK Status



Resident. Nat. Scarce B

Montgomeryshire Status

A 'Nationally Scarce B' species. This very small macro is easily overlooked, especially by inexperienced mothers who are quite likely to see it as a micro moth. Even taking its small size into account, it seems to be quite a local species, probably due to its foodplant, which, isn't actually known at this time. It has been recorded from a few scattered sites throughout the county, but especially in the west.



Wingspan :

M & F, 14-15mm.



Confusion species



White-line Snout, and, because of its small size, it is often confused with micro moths.



Flight time (Montgomeryshire)



Habitat

Wet, boggy and marshy places.

Foodplant

Unknown in the wild. In captivity, cross-leaved heath, sphagnum moss and marsh cinquefoil.

Lifestage data

Largely unknown. Probably overwinters as a larva or a pupa. Pupates in a pendulous cocoon suspended from the foodplant.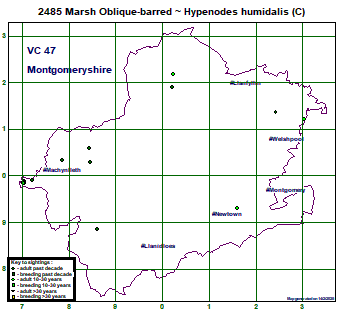 Click map for larger image