UK Status



Resident. Local S,WC.

Montgomeryshire Status

A locally common species, that has only been found at a few sites in the north-east of the county.



Wingspan :

M & F, 28-36mm.



Confusion species



Scalloped Hook-tip and Lesser Belle.



Flight time (Montgomeryshire)



Habitat

Woodland, hedgerows, parks, scrub, orchards and gardens.

Foodplant

Lichens growing on twigs and branches of broadleaf and coniferous trees.

Lifestage data

Overwinters as a small larva. Larva August-late May. Pupates in a strong cocoon formed on a twig or branch of the foodplant.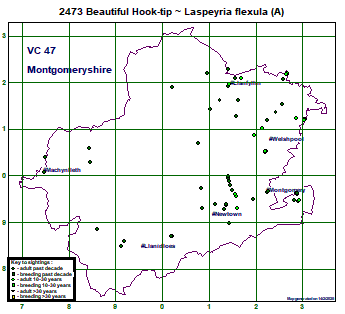 Click map for larger image