UK Status



Resident. Local S,C.

Montgomeryshire Status

Resident. First recorded in 2010 in the extreme east and west of the county. Since then it has been found to be locally common at Middletown in the east of the county.



Wingspan :

M & F, 41-48mm.



Confusion species



Scarce Blackneck.



Flight time (Montgomeryshire)



Habitat

Many damp or wet places.

Foodplant

Tufted vetch, marsh pea and wild liquorice.

Lifestage data

Overwinters as an egg. Larva May-early July. Pupates in a cocoon in the debris on the ground.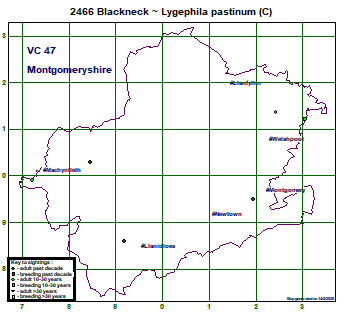 Click map for larger image