UK Status



Resident. Common S,C,(N).

Montgomeryshire Status

A scarce species, recorded in a handful of scattered sites across the county.



Wingspan :

M & F, 30-34mm.



Confusion species



None.



Flight time (Montgomeryshire)



Habitat

Open grassy places.

Foodplant

White clover, red clover, hare's-foot clover, black medick, lucerne, bird's-foot-trefoil and various grasses.

Lifestage data

Overwinters as a pupa in a cocoon amongst the grass blades or just underground. Larva late June-early September, mostly feeding at night.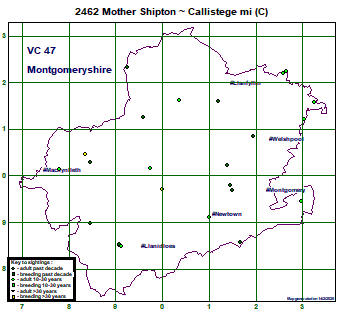 Click map for larger image