UK Status



Resident. Common S,C,(N).

Montgomeryshire Status

A rare species, only recorded on six occasions, the most recent record from Middletown in 2014.



Wingspan :

M & F, 38-44mm.



Confusion species



None.



Flight time (Montgomeryshire)



Habitat

Gardens and parks.

Foodplant

Leaves, flowerbuds and unripe seeds of cultivated delphiniums & larkspur.

Lifestage data

Overwinters gregariously as small larva in a web and singly later. Larva August-June. Pupates in yellow cocoon formed on underside of foodplant leaves.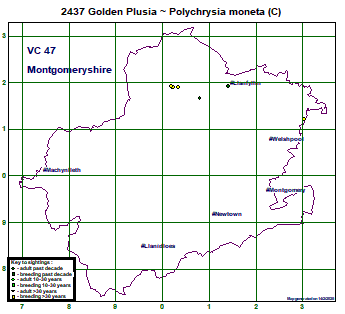 Click map for larger image