UK Status



Resident. Common

Montgomeryshire Status

Resident. This species is probably right on its western most distribution in Montgomeryshire and there are few records. First recorded at Newtown in 1989 it was not seen again until 2014 when trapped at Llyn Coed y Dinas.



Wingspan :

M & F, 22-28mm.



Confusion species



Small Dotted Buff, Least Minor and other 'Minor' sp.



Flight time (Montgomeryshire)



Habitat

Open well drained areas.

Foodplant

Grasses.

Lifestage data

Overwinters as a larva. Feeds within stems where it also pupates.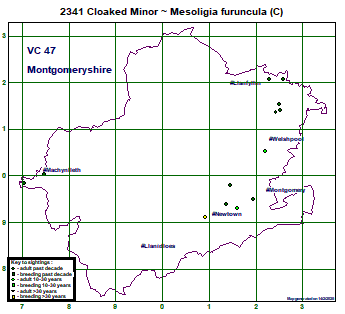 Click map for larger image