UK Status



Resident. Local S,C,(N).

Montgomeryshire Status

A locally common species found throughout the county.



Wingspan :

M & F, 23-28mm.



Confusion species



Tawny Marbled Minor and Marbled Minor.



Flight time (Montgomeryshire)



Habitat

Grassy places, woodland, heathland and coastal cliffs.

Foodplant

Unknown in the wild, but will accept grasses in captivity.

Lifestage data

Overwinters as a larva. Larva August-Spring, feeding inside the stem. Pupates in a fragile cocoon amongst the roots of the foodplant.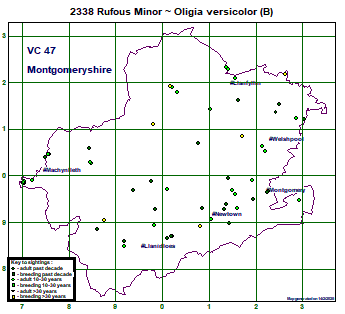 Click map for larger image