UK Status



Resident. Local N,W,S.

Montgomeryshire Status

A rare and local species. Recorded in 2011 (picture below), for the first time since 1976.



Wingspan :

M & F, 34-42mm.



Confusion species



Dusky Brocade, Crescent Striped and the Nutmeg.



Flight time (Montgomeryshire)



Habitat

Mountains moorland, rocky coasts and sand dunes.

Foodplant

The roots and stems of grasses.

Lifestage data

Overwinters as a larva underground. Larva September-June, feeding at night. Pupates in the soil.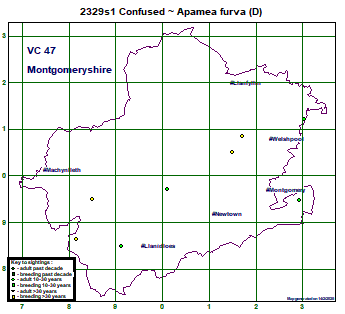 Click map for larger image