UK Status



Resident. Common

Montgomeryshire Status

A rather local species, but it is found many sites across the county.



Wingspan :

M & F, 42-48mm.



Confusion species



Cabbage Moth, Northern Arches, Exile, Dusky Brocade and Pale-shouldered Brocade.



Flight time (Montgomeryshire)



Habitat

Heathland, chalk downland, woodland, fens and gardens.

Foodplant

A range of herbaceous and woody plants.

Lifestage data

Overwinters as a fully grown larva, in an underground cocoon in which it pupates in the spring. Larva June-September, feeding at night.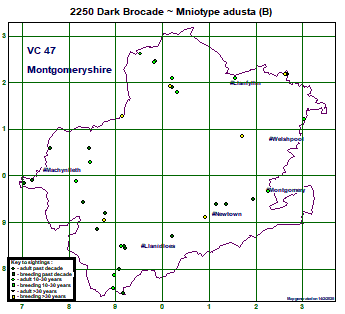 Click map for larger image