UK Status



Resident. Common

Montgomeryshire Status

An uncommon species, but it has been recorded from scattered sites throughout the county.



Wingspan :

M & F, 52-59mm.



Confusion species



Chamomile Shark.



Flight time (Montgomeryshire)



Habitat

Mainly open country up to a mid altitude.

Foodplant

Sow-thistle, wild lettuces, hawk-beards and hawk-weeds.

Lifestage data

Overwinters as a pupa in a strong underground cocoon. Larva July-early September, feeding at night.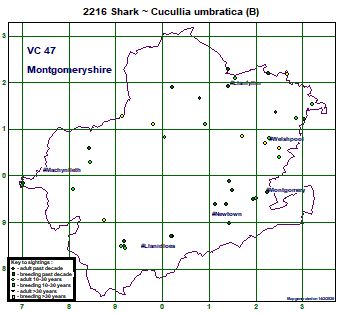 Click map for larger image