UK Status



Resident. Local S,EC,(WC).

Montgomeryshire Status

Two recorded in 2015 firstly in Montgomery followed by a second one a week later. This species may be getting established.



Wingspan :

M & F, 36-40mm.

Confusion species

Southern Wainscot.

Flight time (Montgomeryshire)



Habitat

Reedbeds, fens, marshes, riversides, marshes and margins to ponds and lakes.

Foodplant

Common reed.

Lifestage data

Overwinters as a fully grown larva, in a dead stem or leaf litter. Larva July to April. Pupates in situ in the spring.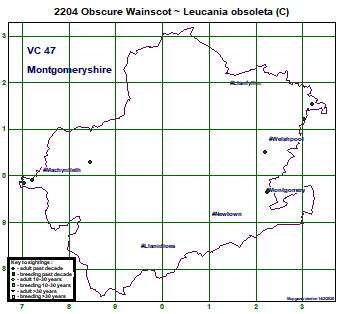 Click map for larger image