UK Status



Resident. Local.

Montgomeryshire Status

A locally common species which was first recorded in the west of the county at Cors Dyfi Nature Reserve in 2009. Since then a singleton was taken at an MMG event at Coed y Dinas near Welshpool in 2014.



Wingspan :

M & F, 32-40mm.



Confusion species



Smoky Wainscot, Common Wainscot, Mathew's Wainscot, Obscure Wainscot, Cosmopolitan and Reed Dagger.



Flight time (Montgomeryshire)



Habitat

Wet and marshy places.

Foodplant

Common reed and reed canary-grass.

Lifestage data

Overwinters as a small larva. Larva August-early June, feeding at night.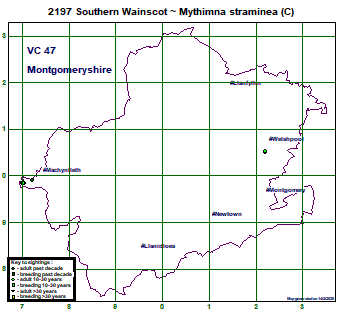 Click map for larger image