UK Status



Resident. Local S,(C).

Montgomeryshire Status

A local and not very common species. Recorded only from the west of the county. Probably somewhat overlooked amongst other Wainscot species.



Wingspan :

M & F, 36-43mm.



Confusion species



Other wainscots.



Flight time (Montgomeryshire)



Habitat

Wet and boggy places.

Foodplant

Broadleaf grasses including, common reed, purple moor-grass and reed canary-grass.

Lifestage data

Overwinters as a very small larva. Larva August-May, feeding at night. Pupates in a cocoon in the leaf litter.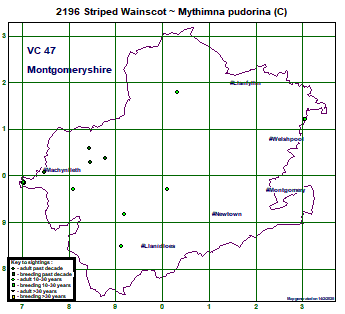 Click map for larger image