UK Status



Resident. Common S,C.

Montgomeryshire Status

A relatively rare species. Just five records exist, all coming from the western side of the county.



Wingspan :

M & F, 27-36mm.



Confusion species



Lychnis and Barrett's Marbled Coronet.



Flight time (Montgomeryshire)



Habitat

Dry open land on calcareous soil.

Foodplant

The ripening seeds of bladder campion, white campion, Nottingham catchfly, sea campion and rock sea-spurrey.

Lifestage data

Overwinters as a pupa in an underground cocoon. Larva late June-August and again in the autumn.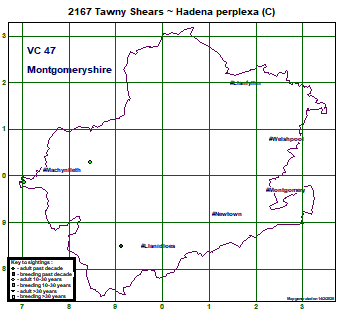 Click map for larger image