UK Status



Resident. Common.

Montgomeryshire Status

Rare in the county, it was not recorded until 2009 when it was found at Llanfyllin. Subsequently re-recorded from there, and one other site (Commins Coch), in 2010.



Wingspan :

M & F, 28-35mm.



Confusion species



None.



Flight time (Montgomeryshire)



Habitat

Rough grassland, chalk downland, coastal dunes and occasionally gardens.

Foodplant

The flowers and flower buds of hawkweed, hawk-beards and sow-thistles.

Lifestage data

Overwinters as a pupa in the debris on the ground. Larva mid July-late September, feeding at night.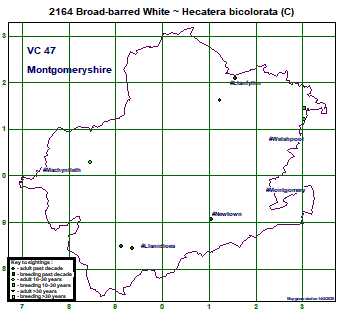 Click map for larger image