UK Status



Resident. Common

Montgomeryshire Status

Fairly common where its habitat is found. The north of the county (especially around the Lake Vyrnwy area) seems to be the stronghold for this species.



Wingspan :

M & F, 24-28mm.



Confusion species



Small Dark Yellow Underwing, True Lover's Knot.



Flight time (Montgomeryshire)



Habitat

Heathland and moorland.

Foodplant

Heather and bell heather.

Lifestage data

The early stages have not been confirmed in the wild, although it is known that the larva is seen from April-November and the pupa is formed in a tough cocoon on or just below the soil.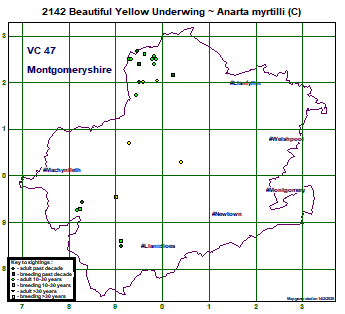 Click map for larger image