UK Status



Resident. Local

Montgomeryshire Status

A scarce and local species.



Wingspan :

M & F, 36-42mm.



Confusion species



Square-spot Rustic, Dotted Clay and Cousin German.



Flight time (Montgomeryshire)



Habitat

Moorland, wooded heathland and raised bogs.

Foodplant

Heather, bell heather and cross-leaved heath.

Lifestage data

Overwinters as a larva. Larva Oct-May, feed mainly at night. Forms a cocoon in the soil but does not change into a pupa for c.6 weeks.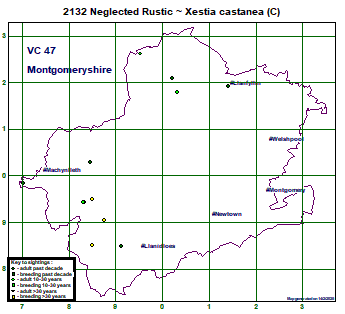 Click map for larger image