UK Status



Resident. Common

Montgomeryshire Status

A very common species found throughout the county.



Wingspan :

M & F, 34-44mm.



Confusion species



Langmaid's Yellow Underwing (see blue circles in pictures below which highlight the key differences of this species).



Flight time (Montgomeryshire)



Habitat

Found in various sites up to a medium altitude

Foodplant

Dock, blackthorn, sallow and a wide range of shrubs and plants.

Lifestage data

The larva is found from September to May, overwintering near the soil surface. It pupates underground.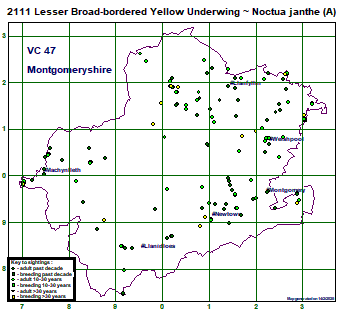 Click map for larger image