UK Status



Resident. Common

Montgomeryshire Status

A very common & sometimes abundant species which is found throughout the county.



Wingspan :

M & F, 35-44mm.



Confusion species



The black collar separates this species from all other darts.



Flight time (Montgomeryshire)



Habitat

All habitats except those at extreme altitude.

Foodplant

A wide range of herbaceous plants.

Lifestage data

Overwinters as a fully grown larva in an underground earthen cocoon in which it later pupates. Larva late July-Spring feeding until October.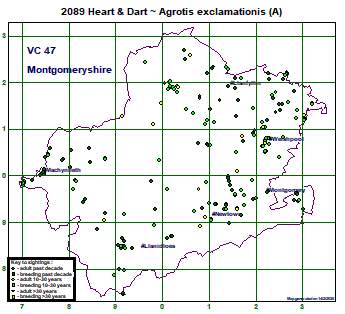 Click map for larger image