UK Status



Resident and migrant. Nat. Scarce A SW.

Montgomeryshire Status

Rare, recorded just four times in the county, mostly on the western side.



Wingspan :

M & F, 35-55mm.



Confusion species



None.



Flight time (Montgomeryshire)



Habitat

Mature broadleaf woodland.

Foodplant

Lichens and algae growing on trees, shrubs, walls and rocks. Also feeds on the leaves of hawthorn.

Lifestage data

Overwinters as a small larva. Larva September-late June. Pupates in a slight cocoon formed in a crevice.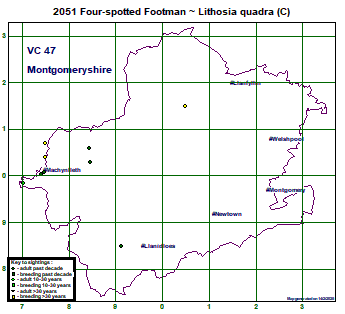 Click map for larger image