UK Status



Resident. Common S,(C).

Montgomeryshire Status

This is a local, but can be very common or abundant species and is found throughout, especially in the north of the county.



Wingspan :

M & F, 28-36mm.



Confusion species



Dingy Footman, Orange Footman.



Flight time (Montgomeryshire)



Habitat

Mostly long established broadleaf or mixed woodland.

Foodplant

Lichens and green algae growing on trees.

Lifestage data

Overwinters as a small larva. Larva September-late June. Pupates in a cocoon formed in a bark crevice.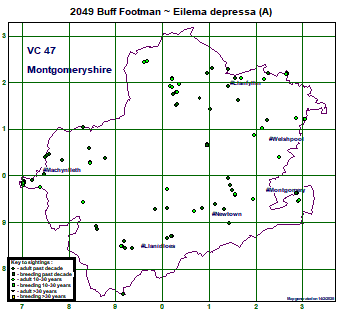 Click map for larger image