UK Status



Migrant. Scattered records

Montgomeryshire Status

A regular visitor to the county in most years, scattered records in varying numbers.



Wingspan :

M & F, 50-58mm.



Confusion species



Broad-bordered Bee Hawk-moth and Narrow-bordered Bee Hawk-moth.



Flight time (Montgomeryshire)



Habitat

Any habitat.

Foodplant

Lady's bedstraw, hedge bedstraw and wild madder.

Lifestage data

Larva mainly June-October. Overwinters as a adult. Pupates in a flimsy cocoon close to the ground amongst the leaf litter.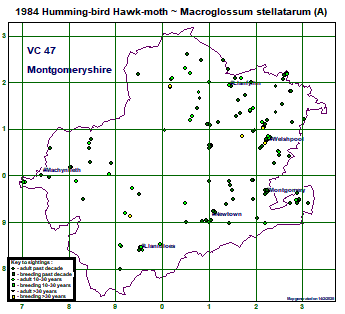 Click map for larger image