UK Status



Resident. Common S,C,

Montgomeryshire Status

An uncommon species, but it has been recorded from scattered sites through most of the county, apart from the south-west.



Wingspan :

M & F, 70-80mm.



Confusion species



None.



Flight time (Montgomeryshire)



Habitat

Can occur anywhere the foodplant grows.

Foodplant

Lime, elm, cherry, downy and silver birch.

Lifestage data

Overwinters as a pupa just below the soil, it has also been found pupating in the cracks of bark on the tree. Larva late June-mid September.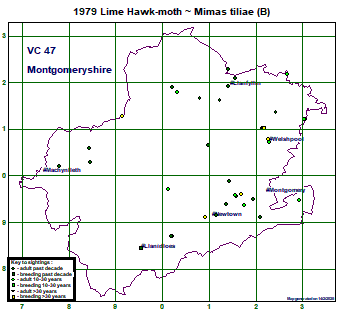 Click map for larger image