UK Status



Migrant. Scattered records

Montgomeryshire Status

A rare visitor. Six records exist for the county prior to 1967. We then had a wait of more than 40 years for another, recorded in Llandysil in 2010 (see pics below).



Wingspan :

M & F, 102-135mm.



Confusion species



None.



Flight time (Montgomeryshire)



Habitat

Organic potato fields and occasionally allotments where potatoes are grown.

Foodplant

Potato leaves, deadly nightshade.

Lifestage data

Unable to overwinter in this country. Larva can occasionally be found. Pupates underground in a slight cocoon.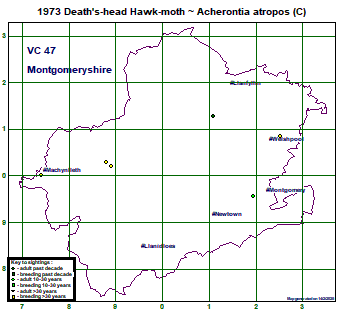 Click map for larger image