UK Status



Resident. Local

Montgomeryshire Status

A scarce and local species.



Wingspan :

M & F, 32-39mm.



Confusion species



Scotch Annulet.



Flight time (Montgomeryshire)



Habitat

Rocky coastal sites, grassy banks, heathland, moorland, inland quarries.

Foodplant

Mainly sea campion, thrift and common rock-rose. Also other low growing plants.

Lifestage data

Overwinters as a small larva on the foodplant. Larva Sept-May. Pupates in debris on ground.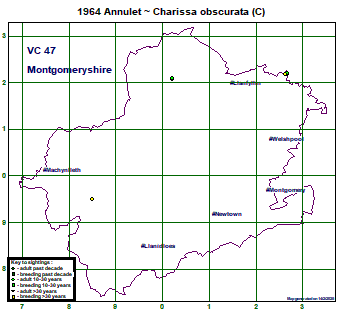 Click map for larger image