UK Status



Resident. Common

Montgomeryshire Status

A common species, found throughout the county. Recorders should be aware that the flight period of this species falls either side of the Small Engrailed and care should be taken with id.



Wingspan :

M & F, 38-45mm.



Confusion species



Small Engrailed.



Flight time (Montgomeryshire)



Habitat

Mostly broadleaf woodland, but also found in scrub, hedgerows, parks and gardens.

Foodplant

Many species of broadleaved trees and shrubs.

Lifestage data

Overwinters as a pupa underground. Larva April-June and late July-early September.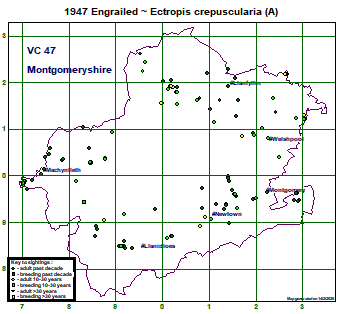 Click map for larger image