UK Status



Resident. Nat. Scarce B SE,W.

Montgomeryshire Status

A 'Nationally Scarce B' species. A scarce species that has been found at few sites in the county. The last time at Lake Vyrnwy in 2016.



Wingspan :

M & F, 17-19mm.



Confusion species



Green Pug, Sloe Pug.



Flight time (Montgomeryshire)



Habitat

Heathland, moorland and woodland.

Foodplant

Bilberry.

Lifestage data

Overwinters as an egg on the foodplant. Larva April-May, in spun leaves. Pupating underground amongst the foodplant.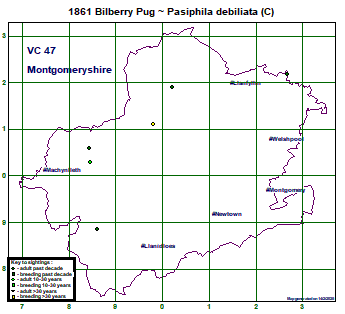 Click map for larger image