UK Status



Resident. Common

Montgomeryshire Status

Resident. Fairly uncommon. This species is very closely allied to the Ling Pug and some authorities consider them to be the same species. It has been recorded from much of the county and is likely to be more common than the records suggest.



Wingspan :

M & F, 21-23mm.



Confusion species



Ling Pug, Currant Pug.



Flight time (Montgomeryshire)



Habitat

Most habitats including gardens.

Foodplant

The flowers of many plants of the asteraceae family..

Lifestage data

Overwinters as a pupa in loose soil. Larva July-October.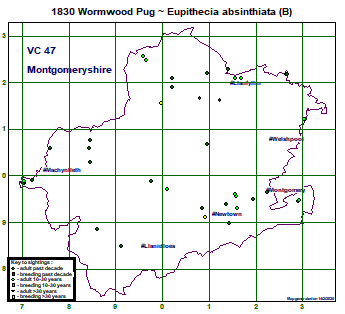 Click map for larger image